Low irritation, less odor.
The adhesive wraps the extensions around the lashes for long-lasting results.
Complete drying time is only one hour.
Showering, cleansing face with oil cleanser after an hour will not affect the results.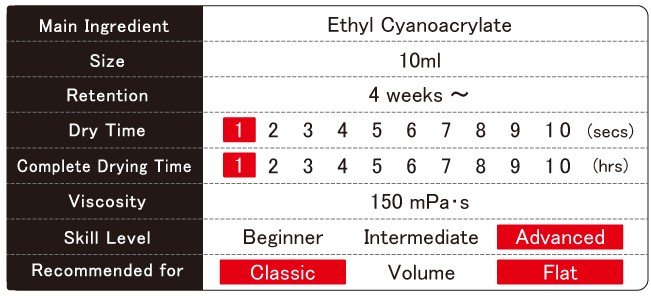 【Storage】
Store in cool dark place (8~23℃)
Avoid hot and humid places with direct sunlight.
【Comes with】
Aluminum pouch, silica gel
【Expiry date】
Unopened: APPROX. 3 months
Opened: APPROX. 1 month
【Precautions】
※Do not use directly on eyes or skin around the eyes.
※Stop using immediately when you have skin abnormality or other troubles.
※Use only in vented area, avoid using around fire.
※Store in cool dark place
※Seal properly with cap after openning, and use within 1 month.
【Made in】
Japan